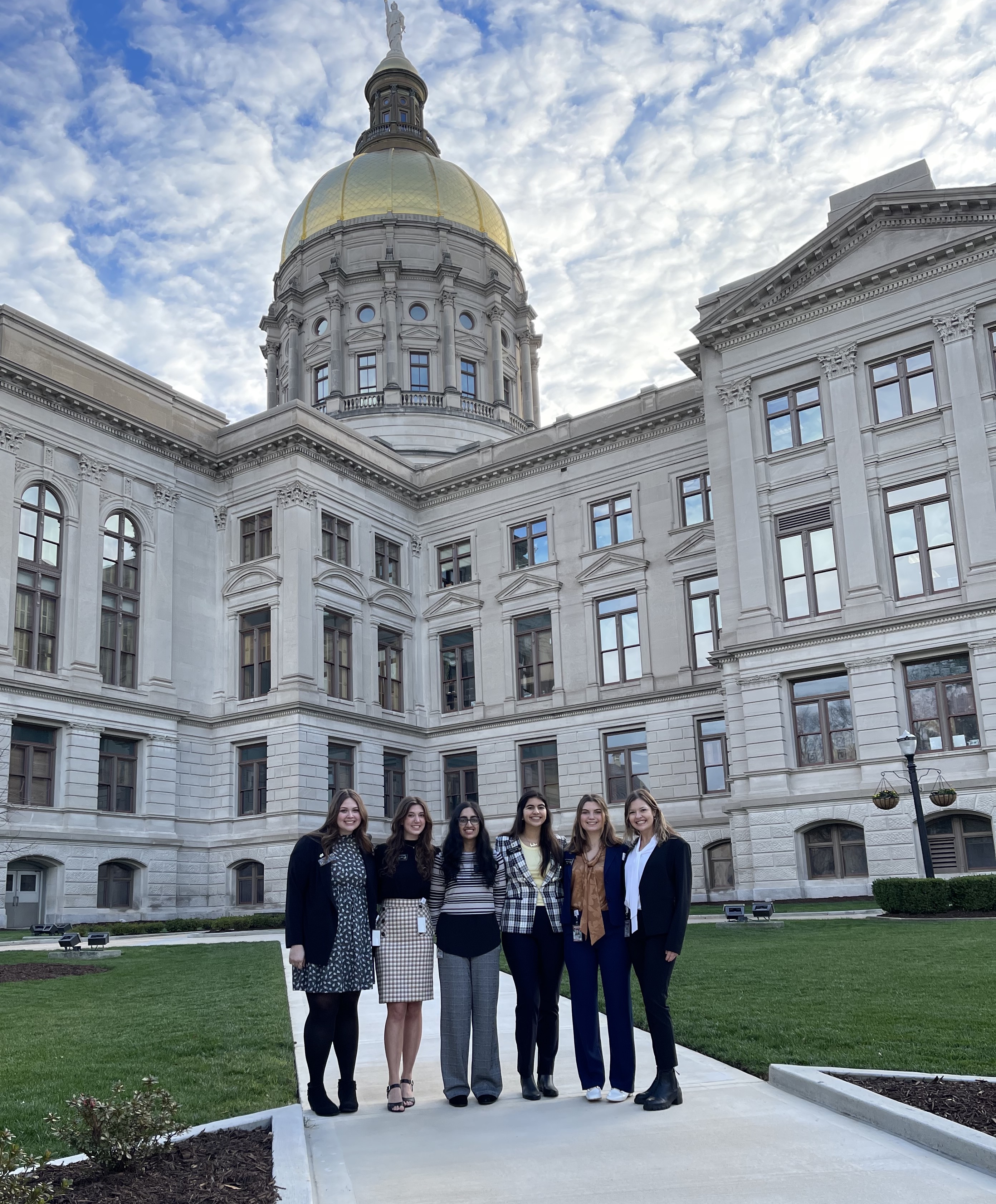 Your chance to meet and work with Georgia's leaders
Each spring, approximately 30 students from across the state are selected to serve full-time as interns to legislators, legislative committees, or legislative staffers. The internship is open to all majors, and is paid.
During the course of the internship, students work full-time in offices in and around the Georgia State Capitol in downtown Atlanta. The internship period lasts approximately 12 to 16 weeks (January to April), depending on the length of the legislative session.
The internship earns 6 hours of PUBP academic credit, with the potential to earn additional hours of PUBP academic credit, audit credit or a possible evening course at Georgia State University. To earn course credit, interns must work a 40-hour week, complete daily journals, and participate in group meetings.
The internship program is offered in collaboration with colleges and universities throughout Georgia and the Georgia General Assembly. The internship program for Georgia Tech students is administered by the Office of Institute Relations.
Q: Should you be a Legislative Intern?
A: Yes, if…
You are a Georgia Tech undergraduate student who wants to be a part of a dynamic state government before you graduate.
You want to participate in shaping Georgia's future in politics, business, law, media, education, medicine, or beyond.
You would like to enhance your education by obtaining experience and contacts for future job opportunities.
Former Intern Quotes
"The internship gave me insight into the practical realities of lawmaking. It was a very enlightening experience to realize how much the legislators must compromise. I would encourage even business majors to apply for an internship."

"The internship opened my eyes to see what's actually going on in the state legislature. I worked in the Public Information office writing press releases, doing some research, and working on budgets. I would encourage all kinds of majors to apply."

"Politics might be something I want to do. It was exciting. For future reference, it's going to help. It's an eye-catcher on the resume. It was also just fun to live a completely different lifestyle for three months in a big city."
Q: Are there other requirements?
A: Yes.
You must be an undergraduate student, second year or above.
You must enroll to receive 6 academic credit hours for the internship provided by the School of Public Policy.
Selection is based on academic standing and potential for leadership in politics and government as indicated by grades, work experience, extracurricular activities, interests, and maturity. You will be asked to furnish a transcript and resume, as well as references from people who have taught you or worked with you.
Blank Space (small)
(text and background only visible when logged in)