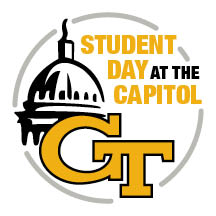 Take advantage of this unique opportunity to swarm the Gold Dome for the annual GT Student Day at the Capitol!
Organized by the Student Government Association with support from Georgia Tech's Office of Government and Community Relations, this event is a unique opportunity for students to get a first-hand look at state government during the legislative session and to learn more about how the goings-on at the Capitol affect them as students and residents. The gathering is attended by students and legislators with an affiliation with Georgia Tech together with Georgia Tech alumni and friends who work in and around the Capitol. Students can sign up to attend through the Student Government Association. Free transportation is provided from campus to the Capitol.
Georgia Tech students are welcome to attend by registering online at the link below. Attendance is granted on first come, first served basis until all space is full via the registration site. Register online here.