We serve as a resource for the members of the Georgia Tech and Washington, D.C. communities
Connections Between Federal Government Leaders and Georgia Tech Experts
Georgia Tech is home to international thought leaders who are available to testify before congressional panels, brief members of Congress and staff on technical topics, and participate in conference calls or discussion panels.
Contact us to connect with Georgia Tech experts in areas such as clean and sustainable energy; disease diagnosis and treatment; and national defense and security.
Fiscal Policy Advocacy
Cuts to research and education are creating an innovation deficit, the gap between needed and actual federal investments in research and higher education.
Together with Georgia Tech's executive leadership team, we join the broader higher education and policy communities nationwide in the debate over the federal budget and the innovation deficit. Read more: Close the Innovation Deficit.
Congressional Support for Federal Research Funding and Other Issues
We encourage members of the Georgia Congressional Delegation to support federal funding for research and financial aid.
Research Development
Growing and diversifying Georgia Tech's research portfolio is among our primary goals. We provide faculty with intelligence regarding federal funding opportunities and assist with letters of support for grant proposals.
Sign up for our weekly update from Washington designed exclusively for members of the Georgia Tech community.
Congressional Testimony Prep
Over the past few years, Georgia Tech faculty have testified before Congress on issues of national importance. The federal relations team helps our community capitalize on these opportunities and provide support before, during, and after testimony appearances.
Advocacy Prep: D.C. Visit Planning and Onsite Support
The federal relations team facilitates interactions between the Georgia Tech community and policymakers – both in Washington, D.C. and on our campus.
If you know you will be interacting with members of Congress or their staff, please contact us so we can help you make your interaction as productive as possible and ensure your interaction is in compliance with federal lobbying disclosure rules.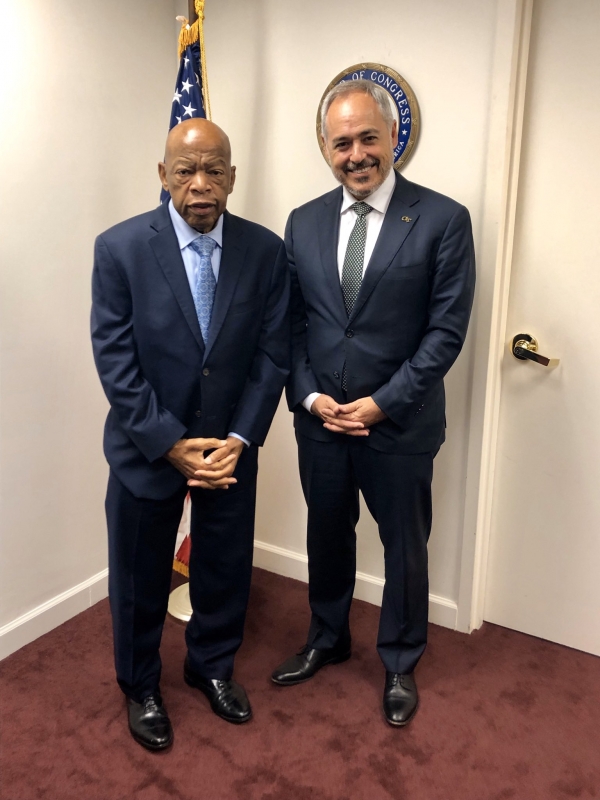 President Cabrera meets with Congressman John Lewis in his D.C. office.