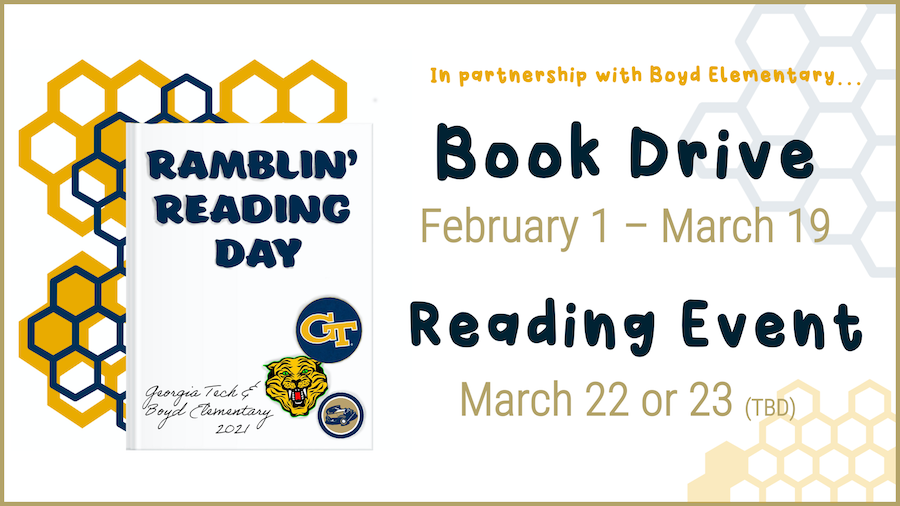 Buzz Buddies at Georgia Tech executed a project called "Ramblin' Reading Day 2021"—an early childhood literacy initiative between Georgia Tech and Boyd Elementary, an under-resourced Atlanta school.  Ramblin' Reading Day featured a campus-wide book drive in February 2021 that collected over 400 books and a reading event on March 23, 2021.  Over 30 Georgia Tech volunteers served our partner school, Boyd Elementary, in different capacities. Volunteers distributed Georgia Tech "swag packs," which included a Georgia Tech t-shirt, bookmark, and every student's very own book.  Other volunteers served throughout the morning as virtual guest readers in each of Boyd's classrooms.
 This day would not have been possible without the amazing team working on this project, including Georgia Tech students Anna Katherine Cates and Chandler Woods, the Georgia Tech Office of Institute Relations, Boyd Elementary's faculty and staff, the Georgia Tech Office of Special Scholarships staff, the STRIVE Foundation, Georgia Tech Youth Programs, Georgia Tech's Office of Human Resources, the Mr. and Mrs. Tripp Whitley Scholarship Fund, and countless others.
 Thank you to everyone who was a part of this event, whether through planning, book donations, or day-of volunteering. We look forward to another successful event in 2022.